Well, it is Pre-Lent now. Who knows what they are giving up? Also, Crazy busted his leg on Saturday but already looks stronger. Crazy plus Limps equals Crimps.
There appeared to be some true blue flying going on at the scove pond yesterday...
Well, hello there everypony! I just can't believe it will be Heather's birthday in just 10 days. Everyone should get her a keychain to mark the occasion!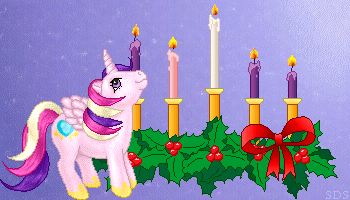 Keep your eyes peeled here to see the candles get lit each Sunday of Advent!
Well, here we are. Post Lent is ending and Advent is about to begin. What is everyone up to? Seen any baby ducks lately?
Fed the baby and adult Muscovies down at the pond today. We brought some bread for the babies and it was happily accepted. Then when the corn came out the babies were actually seen to eat a few pieces! Anyway, very exciting to see all four coming along so nicely.
The four are really slightly bigger. They try to eat the corn and can navigate the tall grass somewhat. They are truly the hope of the pond!
It took awhile for their arrival, but all freshies were accounted for, but hastily abandoned when the ice cream truck showed up.
Still four!!! Go freshies, go!